Product Description
BRAND: ABB Installation Products (formerly Thomas & Betts Corporation)
ABB (350HPS) Split-Bolt w/Spacer
Type HPS Plated Split-Bolt Connector with Spacer made of Copper Alloy for Use on Copper, Aluminum, ACSR Conductors. Conductor Range for Equal Main and Tap 350 kcmil-1/0 Str.
Features
Bolt and pressure bar of copper alloy, completely tin plated for corrosion resistance. Contoured spacer of bronze alloy copper.
Application
Splicing, tapping or terminating conductors in power and grounding electrical connection.
General
Style Type HPS
Wire Type Copper, Aluminum, ACSR
Material Copper Alloy
Plating Electro Tin-Plated
Color Metallic
Conductor Range for Equal Main and Tap 350 kcmil-1/0 Str.
Conductor Range Min. Tap with one Max. Main 2 Sol.
Conductor Range For Equal Main and Tap ACSR 266.8-1/0
Dimension Information
A (inches) 1 5/16
B (inches) 0.717
C (inches) 1 21/32
D (inches) 2 11/16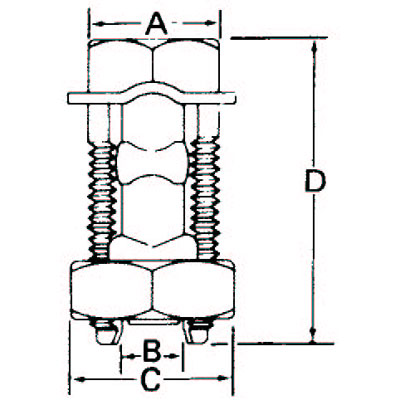 Product Videos
Product Reviews