Product Description
BRAND: ABB Installation Products (formerly Thomas & Betts Corporation)
ABB (1000M) Split Bolt Connector
Type H High Strength Split-Bolt Connector made of Bronze Alloy for Use on Copper Conductors. Conductor Range for Equal Main and Tap 1000 kcmil-800 kcmil
Features
Bolt and nut of high-strength corrosion-resistant bronze alloy. Copper alloy pressure bar.
Standards
Application
Splicing, tapping or terminating conductors in power and grounding electrical connection.
General
Style Type H
Wire Type Copper
Material Bronze Alloy
Color Metallic
Conductor Range for Equal Main and Tap 1000 kcmil-800 kcmil
Conductor Range Min. Tap with one Max. Main 4/0 Str.
Dimension Information
A (inches) 2 1/4
B (inches) 1.185
C (inches) 2 17/32
D (inches) 4 1/32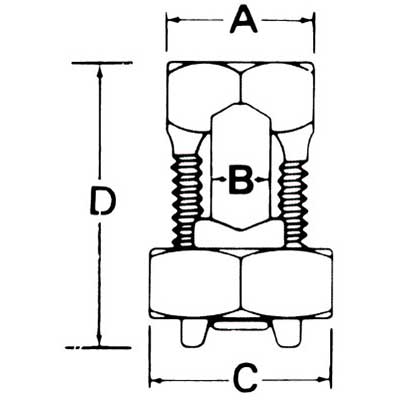 Product Videos
Product Reviews